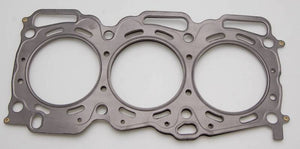 Subaru SVX EG33 3.3L Boxer Flat 6 CYL 1992-97 24v MLS Cylinder Head Gasket, 98mm Gasket Bore. Each
Regular price $119.96 $119.99 Sale
Subaru EG33 3.3L Boxer 6 CYL 1992-97 24v 98mm MLS Head Gasket. Comprised of mulitple embossed layers of stainless steel with the outer layers utilizing a viton rubber coating for sealing at high cylinder pressures.
Price is per gasket, engine requires two head gaskets.
Parts are custom manufactured to order by Cometic Gasket.  Unless you order 98mm bore & .051" thickness, these will be a dropship item. 
98mm Bore-  For thicknesses of .030" .040" & .051" please allow 14-18 business days for orders to ship out.  Other thicknesses & larger bores may take up 180 days to make & receive from Cometic. Bores larger than 98mm and gaskets thicker than .066" are considered custom & are not returnable, as opened gaskets are also not returnable.